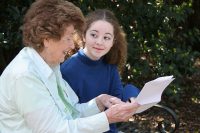 Learning Life's Important Lessons
Through a grant that Cochise SDA received from Southern Adventist University, the Partnering for Eternity (PFE) program allows students to earn up to $100 per month toward their tuition while learning an important lesson in life about Christian values and service to others.  With the PFE program, students are matched up with a senior mentor – an adult in the community (usually an elderly person) with whom they will visit for an hour each week in order to assist them with light housework or chores, or to simply spend time with them reading the Bible or engaging in meaningful conversation. 

Students are always accompanied by a parent on PFE visits or, if their parents are unavailable, a volunteer from our school may be assigned. This program has been very successful in helping students to better understand how to relate to older adults and the value of being of service to others.  To learn more about the PFE program, click here.