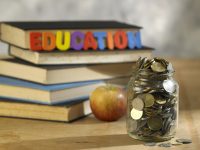 AAA Scholarship Foundation
This past school year, nearly all of our students received a scholarship through AAA Scholarship Foundation.  AAA is a School Tuition Organization (STO) that provides economic and other assistance to economically-disadvantaged families, as well as families of children with disabilities or those in foster care to enable them to select the best schools for their children.  The key to being successful in acquiring a scholarship through AAA is to file an application early, file online, and make sure you have all the documentation required (e.g. birth certificates, etc.) to submit to AAA when asked.  Since scholarship awards are made strictly on a first-come first served-basis, failure to submit necessary documentation or delays in doing so can cause you to forfeit the scholarship.  We urge all parents to review the information necessary to complete a scholarship application. There are two types of applications: the economically-disadvantaged application and the displaced/disabled application. Unlike other scholarship organizations, AAA scholarships are for three years!  To view the requirements for these scholarships and to apply click here.

Arizona Adventist Scholarships
Like AAA, Arizona Adventist Scholarships is another non-profit School Tuition Organization (STO) that accepts tax credit donations to be used for private school scholarships.   It is designed to provide help for those families who are seeking an affordable Seventh-day Adventist education for their children.  The generosity of donors affords Arizona Adventist Scholarships the ability to awards to deserving students.  To learn more about Arizona Adventist Scholarships click here.  
 
Institute for Better Education (IBE) Scholarships
The Institute for Better Education (IBE) is yet another non-profit School Tuition Organization (STO) that accepts tax credit donations.  By law, scholarship recipients must be attending a recognized kindergarten through 12th grade program as a full-time student.  IBE works with several corporations, well over 250 schools, and thousands of children statewide.  Similar to AAA, IBE offers a few options for scholarships. To learn about the requirements for an IBE scholarship and to apply click here.

Empowerment Scholarship Account (ESA) - Arizona Department  of Education
An Empowerment Scholarship Account (ESA) is an account administered by the Department of Education (ADE) and funded by state tax dollars to provide options for the education of qualified students in Arizona. Commonly known as the state voucher program, ESA allows applicants of qualified students to utilize public monies to purchase educational services from private schools, individuals, and vendors. To apply for an ESA scholarship click here.

Arizona Leadership Foundation
The Arizona Leadership Foundation offers scholarships through Arizona's Corporate Income Tuition Tax Credit (CTC) Scholarship Program and the Lexie's Law Corporate Income Tax Credit Program in much the same way as AAA and IBE. These Arizona programs are education plans designed to help low-income families and families with disabled/displaced children obtain the best education for their children. The requirements are essentially the same as AAA and IBE.  To apply for an Arizona Leadership Foundation scholarship click here.

Cochise Christian School Tuition Organization (CCSTO)
Another STO that you should consider in seeking a scholarship for your child is Cochise Christian School Tuition Organization (CCSTO).  In addition to the availabillity of online resources, their offices are local (Sierra Vista) making it much easier to get questions answered and to transport paperwork if and when necessary.  To learn more about their scholarship requirements click here.

Multiple Scholarship Applications
Please note that if you have applied to and received a scholarship from AAA Scholarship Foundation, you cannot accept scholarship funds from another STO that is based upon the tax credit.  In other words, you cannot stack, or add together the scholarship awards.  However, you can file applications with multiple STOs and accept combined funds if you did not receive funds from AAA. In fact, it is recommended that you apply to more than one STO, as tax credit funds disappear very quickly as the new school year approaches.  If you apply to and are approved by AAA, you will need to turn down any other awards.

Partnering for Eternity
Through a grant that Cochise SDA received from Southern Adventist University, the Partnering for Eternity (PFE) program allows students to earn up to $100 per month toward their tuition while learning an important lesson in life about Christian values and service to others.  With the PFE program, students are matched up with a senior mentor – an adult in the community (usually an elderly person) with whom they will visit for an hour each week in order to assist them with light housework or chores, or to simply spend time with them reading the Bible or engaging in meaningful conversation.  Students are always accompanied by a parent or, if their parents are unavailable, a volunteer from our school may be assigned. This program has been very successful in helping students to better understand how to relate to older adults and the meaningfulness of being helpful others.  To learn more about the PFE program click here.