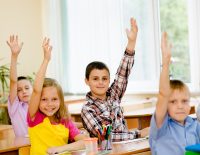 You've Got Questions?  We've Got Answers.

The following are the most commonly asked questions that we receive about Cochise SDA and the Adventist Education network.  You can find the answer to most other questions by visiting the appropriate pages on our website or by viewing a copy of the Student Handbook.  If you have a question that is not answered by any of these resources, please feel free to contact us anytime by visiting our Contact page.


Do you have to be a Seventh-day Adventist or be a member of a Seventh-day Adventist Church in order to attend Cochise SDA?

Cochise SDA is a private Christian school open to anyone in the community, regardless of their denominational affiliation, as long as they are interested in a true Christ-centered education and are willing to support the policies of the school.  Classes at any of our schools frequently contain a blend of students from a variety of religious and ethnic backgrounds. The primary requirement is simple: a desire to know Jesus Christ.

What sets Cochise SDA apart from other Christian schools?

Each staff member at Cochise SDA views his or her role not as a job, but as a calling. The commitment to reach our youth with the principles of Christian living that many in the world today have forgotten, is of paramount importance.  It is not just about ceremony and ritual – it is about how you live your life and the example that you set for others.  At Cochise SDA, we teach to the "whole child."  We tailor the curriculum to meet the individual needs of each student.  And, while we provide a superior academic education, the fundamental basis for our approach is based firmly on the Bible.  We offer a truly Christ-centered education.

How are the academic standards established and maintained in the Adventist Education network?

Like most other schools, those in the Adventist Education network utilize standardized testing to measure the academic progress of students.  Cochise SDA uses the Iowa Achievement Tests (ITBS) – nationally normed standardized tests, to gauge student progress in key academic areas. Studies have shown that students in the Adventist system outperform those at all other schools, both public and private.  For more information on this subject please click here.

Does Cochise SDA offer financial assistance or programs to help defray the cost of tuition?

The truth is, private education can be costly.  Oftentimes, it can be a deterrent to pursuing a quality education for those who have become disillusioned with the public system.  However, Cochise SDA offers scholarship programs, grants, and worthy student assistance to those who qualify. For those with limited income or for students who currently have or in the past have had IEPs, METs, 504 plans, or have been in foster care at one time or another, the chances of securing a scholarship are very good.  In many cases, scholarships that cover almost 100 percent of tuition can be obtained.  For more information on scholarships and grants, please visit our Scholarships page.  

Is transportation provided for students who live outside of the Bisbee area?

Although we have previously offered bus service from Sierra Vista, we  will not be doing so this year.  Transportation may be available for a limited  number of areas surrounding Bisbee.  The Cochise SDA school board is considering the development of a transportation network for the upcoming school years to make the school more accessible to those living in outlying areas.  For the latest information on transportation to the school please contact our administration by visiting our Contact page.

Are students at Cochise SDA required to wear uniforms?

While full uniforms are not required, there is a specific dress code that includes a polo shirt with the school logo and specific colors for slacks or skirts.  For more specific information on uniforms, please download or view our Student Handbook by visiting our Handbook page.

Does Cochise SDA provide a lunch program for students?

Cochise SDA does not have a lunch program, except when food preparation classes are conducted.  Students are otherwise instructed to bring a sack lunch that may include refrigerated items and/or foods that need to be heated.  Facilities will be provided for this purpose. During special events or at specified times, hot meals may be served for both students and parents alike.  There are some restrictions on foods  brought into the school.  Please refer to the Student Handbook for details.

Do you have competitive sports at Cochise SDA?

We do not engage in competitive sports at Cochise SDA.  In other words, we do not challenge other schools nor attend tournaments for sports such as football, basketball, or baseball. We encourage students to focus more on improving themselves in athletics, rather than trying to compete with each other or with those at other schools.  Our philosophy is that competitive sports have become inherently problematic in our society today, as the ever-increasing negative publicity in the media attests.  Aside from the scandals and poor sportsmanship that has become commonplace in the media, there are also the inherent health dangers of contact sports such as football, as a New York Times article recently pointed out.  View it by clicking here.  As such, we do not hold football, basketball, or baseball games.  We do have a basketball hoop for students to practice their coordination and to build up their stamina.  We also have a volleyball court and track as excellent resources for regimented physical activity.  Students do receive a very well-rounded physical education.  Along with health and food preparation classes, they are encouraged to adopt a healthy diet and lifestyle that will help them to avoid the chronic diseases that are plaguing America.

Is Cochise SDA Christian School a safe environment for my child?

A great deal of effort has been invested in ensuring that the environment at Cochise SDA is the safest we can possibly provide for our students.  In addition to the ongoing counseling about interpersonal relations, including such matters as sexual harassment, bullying, and aggressive behavior, we require all of our staff members, whether paid or volunteer, to pass a background check and to complete an online child safety training program. In terms of external factors, the area immediately surrounding the school is fenced, and the entry gate and all of the classroom doors are equipped with remote-controlled electronic locks.  The school building is also equipped with both interior and exterior cameras for 24-hour security.

How do I communicate with the school or receive announcements and other necessary information?  

Cochise SDA has been designed in such a way as to take advantage of the available technology.  The classrooms and administrative infrastructure are high-tech.  Communication with parents is via email or SMS using their cell phone.  Applying to or enrolling students at Cochise SDA can be done entirely online, including the payment of any necessary fees.  Documents that are required for enrollment or for scholarship applications can be scanned and uploaded via the Internet.  Through our parent portal, parents can view the academic progress of their child online anytime.  For those who do not have access to the Internet, to a computer, or to a smartphone, we will provide paper copies of any information that you may need.

How can I review my child's records online through the parent portal?

If your child is enrolled at Cochise SDA his/her records will be available in our online database.  You can review these records anytime by logging in through our parent portal.  

Can I stop in and visit the school anytime?

Because of our security requirements and to avoid distractions to classes that are in progress, we ask that all visitors to Cochise SDA call ahead to make an appointment.  We ask the same of those wishing to volunteer their time.  Your cooperation in this area is greatly appreciated.